Revolutionary trends and new prospects at MODERNLOG 2023 Fair
Market leaders among the exhibitors, presentation of modern intralogistics solutions, discussions about current development directions for logistics and a look into the future – this is how MODERNLOG Logistics, Warehousing and Transportation Fair can be summarized in a nutshell. The next edition of the event is scheduled for June 4-7, 2024.
MODERNLOG is organised by ITM Industry Europe, which is the largest exhibition event for the industrial sector in this part of Europe and the SUBCONTRACTING Industrial Cooperation Fair. In total, this year's event attracted nearly 700 exhibitors, more than 15,000 visitors, and the displays occupied an area of 42,000 square meters.
– I'm glad that we were able to host so many professionals at MODERNLOG and the Smart Warehouse conference. We would like to thank all exhibitors, speakers and visitors for their participation and contributions to the logistics industry. Your presence and involvement were inspiring. We see that the logistics sector is developing very dynamically, so we want to create an event that is focused on supporting business development, presentation of innovative solutions, networking, as well as discussion and exchange of knowledge between experts from different areas of logistics – concludes Hanna Zdrojewska, MODERNLOG Fair Director.
INDUSTRY LEADERS AT MODERNLOG
At the MTP Poznań Expo, one could meet system integrators, manufacturers and distributors of logistics 4.0 and warehouse of the future solutions. The statistics, as well as the opinions of both exhibitors and visitors, clearly indicate a positive perception of the direction of the MODERNLOG fair, which is gaining more recognition and popularity every year.
– The MODERNLOG fair was, as always, a fantastic experience for us! We presented a satellite rack with self-propelled platforms, being at the same time part of the automation we offer. Visitors to our booth were also able to get a glimpse of Crown brand carts, of which we are a distributor. We are seeing major changes in the industry – solutions are becoming more sophisticated, systemic and automated, and customers are looking for modern and tailor-made solutions. They're also looking for integrators who, like us, can help them logically combine products from different companies to create a system that works flawlessly – explains Katarzyna Stawiarska, WDX's operations marketing coordinator. – The most important benefit of the fair is the face-to-face meetings. What the pandemic took away from us is now coming back and we can again share our energy, touch the products and talk to each other. It's a very positive experience, meeting familiar faces, and making new contacts. We also meet students here, to whom we want to pass on as much of our knowledge and experience as possible, because we know that we are raising the next generation of logistics professionals.
Among the exhibitors at MODERNLOG were two winners of the MTP Gold Medal – one of the most prestigious and recognizable trade fair awards in our country. The statuettes went to Kardex for its Intuitive Picking Assistant – this product also won the Gold Medal Consumer's Choice competition – and to the Institute of Software Studies for its Synaptic Platform, a central logistics system.
– Our impressions of attending MODERNLOG are very positive. These were intense days that brought us a lot of new contacts. We have noticed that customers are more informed and come to us determined to use certain solutions. At the booth we show the entire portfolio of our solutions – due to the size of our equipment, we used a 3D presentation on touch screens, which allowed visitors to better understand the functioning of our products. Customers can take a closer look at each device and see the principle of operation, as well as practice the picking and returning areas on our latest picking devices with optical indications, which above all eliminate mistakes in these processes – says Krzysztof Nowakowski, Sales Manager at Kardex.
Among the exhibitors were many companies that decided to have a booth for the first time. One such brand was PDAserwis:
– This was our first time at MODERNLOG as an exhibitor, and I must admit that we were pleasantly surprised by the response from customers. Our presence at the fair was mainly focused on promoting our AutoID solutions, such as label printers, mobile terminals and barcode scanners. The fair was not only an opportunity for us to present our solutions, but also to learn about the products and technologies of other companies. The collaboration is extremely valuable to us, as it allows us to create something new, interesting and even more innovative. Everyone here has the opportunity to gain new knowledge and experience – said Rajmund Rojek, account manager at PDAserwis.
EXTENSIVE PROGRAM OF MODERNLOG FAIR
This year's edition of the fair was full of industry meetings. The development of Polish and global logistics in connection with technological and socio-economic changes was discussed by speakers at the meeting "Heading towards modern logistics" organised by the Kostrzyn-Słubice Special Economic Zone and PSI Wielkopolska. The Polish Association of Warehouse Technology, meanwhile, addressed storage systems issues that warehouse managers face on a daily basis during the Racking Conference.
In the center of the pavilion, there were daily logistics demonstrations in the In4Log zone, which, as every year, attracted the attention of trade fair visitors. Medialog Publishing House together with its partners – AIUT, Mosca, Fronius, Craemer, AnterSystem, Continental, RedSteel, PolPlan, LGS Maximal, Agroma Polsad, LineLaser – prepared dynamic presentations of state-of-the-art intralogistics solutions.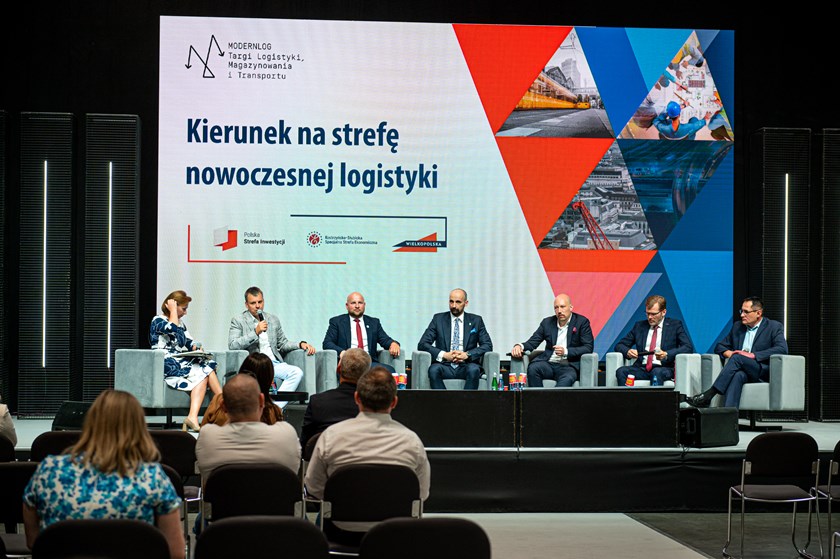 TWO DAYS OF DISCUSSIONS ON WAREHOUSES OF THE FUTURE
The record attendance at the Smart Warehouse conference clearly confirms the need to talk about the future of warehouse work and current challenges. This year's event was attended by more than 600 people. During 5 panel discussions, 29 speakers from 26 well-known brands appeared on the Smart Warehouse stage. Experts discussed mechanization and automation of warehouse processes, AGV robots, logistics solutions for e-commerce and data digitization.
– I am extremely pleased that I was able to participate in a very interesting discussion on fulfillment as part of the Smart Warehouse conference at MODERNLOG in Poznań. It was an ideal opportunity to exchange insights on this area of logistics with practitioners working in the same industry. It was clear from our discussion that fulfillment is more than just logistics. It's also a whole range of activities that support e-commerce sales – sums up Łukasz Wysokiński, Managing Director of InPost Fulfillment. – During the discussion, we came to a common conclusion that while fulfillment is not for everyone (it's an ideal option when scaling a business or gaining momentum towards cross-border sales), its development must follow the expectations of the market. The market, meanwhile, is following the expectations of the consumer, who wants to get his package as quickly as possible, in the form that suits him best. This brings us to a belief that we all shared during the panel – FF stands for both Fulfillment and Full Flexibility. These concepts should always go hand in hand, providing a range of added value for both the merchant and the end customer. This is what guides us every day at InPost Fulfillment!
Very popular was the opening panel of the Human vs robotics conference, how to befriend a robot in a warehouse, where experts from many backgrounds discussed artificial intelligence, robotization and the interaction between humans and robots: Magdalena Morze (future researcher), Aleksandra Przegalińska (AI professor), Malwina Faliszewska (diversity trainer) and Ilona Miziewicz-Groszczyk (logistics practitioner). In almost every discussion, speakers referred to technological developments and the opportunities and challenges they bring – including in the IoT digitization panel, which included, among others Marlena Dorniak of Dachser:
– Smart Warehouse Conference is an industry event, important on the map of initiatives for TSL. What is important is to show that the industry is aware of the requirements it faces and the risks – those related to the upcoming new technology, but also those it generates itself, e.g. in the area of the environment, without overlooking such important elements as CSR & ESG. The industry is ready to implement the latest technologies, including those based on AI; the applications of the digital twin may serve as an example here. The panel I attended is a very important voice of practitioners from different fields, pointing out the potential that lies in systems and data. You have to learn to use them and not be afraid of what modern IT solutions bring. Thank you for the joint substantive discussion and the opportunity to present the vision of digitalization of processes from the perspective of a logistics operator such as Dachser – says Marlena Dorniak, Manager of Dachser Satellite Branch in Toruń.
The Smart Warehouse program was also made up of presentations as part of the Partner Stage series. Among the speeches were topics related to ASRS systems, legal aspects of warehouse automation, supply chain management improvements, microfulfillment and e-commerce logistics on a European scale (InPost Fulfillment and Modivo case studies). An important part of the conference was a specially designed networking zone with space for the Conference Partners. One of them was Jungheinrich:
- Once again, we were participants in a panel discussion at the Smart Warehouse conference. It was 75 minutes of intense and substantive discussion on AGV robots and related technologies, trends, challenges, solutions and design approaches combined with a look at automation from a unique user, solution provider and integrator perspective. We also highlighted our presence at MODERNLOG by participating in a panel discussion of a conference organized by K-SSEZ on the topic: "Without limits and boundaries, or what will be the modern logistics infrastructure of tomorrow?" Poland as a European logistics hub; trends and challenges in the warehousing industry, or identifying the key warehouse technologies of the future were just a few of the topics discussed. The MODERNLOG trade fair and the Smart Warehouse conference are sure to be a great place for representatives of the logistics and intralogistics industry to meet and share their experience and discuss trends in this sector of the economy. See you next year for the next edition of the event – said Artur Kuśnierek, Sales Development Manager at Jungheinrich Poland.
The next MODERNLOG Logistics, Warehousing and Transportation Fair will be held exactly on June 4-7, 2024.